Regular price
Sale price
$21.000
Unit price
per
Sale
Sold out
Quinoa was called the gold of the gods by the Incas, and today it is known as a superfood of the future. It is an excellent source of protein and contains all the essential amino acids for the human body, its fiber content is almost double that of cereals, helping the proper functioning of the digestive system and the sustenance of the microbiota. It is rich in magnesium, iron, vitamin B12 and lysine, an essential biocompound for tissue repair and regeneration. Additionally, this sweet variety of quinoa from Quitopamba has low concentrations of saponins, antinutrients normally contained in conventional quinoa that give bitter flavors and decrease the bioavailability of its nutrients.
Quinoa can be cooked similar to rice, once cooked it can be added to smoothies, salads, rice dishes or to make vegetable milks. It can also be cooked directly in soups and creams, providing an earthy flavor and thickness. Due to its protein and fiber content, it is an excellent ingredient for breakfast, used as a substitute for cooked oats.

It comes from Yacuanquer, Nariño, from agroecological family farming and with Ecocert organic certification.

Its flavor is subtle, with nutty notes and airy texture.

Ready-to-eat food
Store in a cool place and out of direct light.
Duration of 12 months.
It does not need refrigeration.
Share
View full details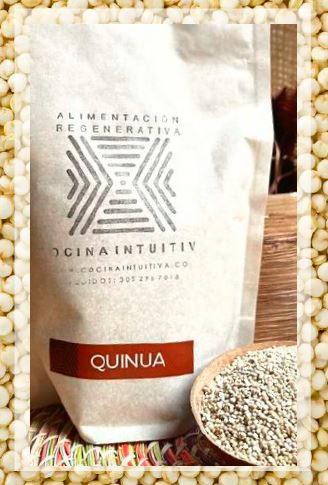 Sin agrotóxicos.
Amamos y practicamos la agroecología, somos una comunidad de más de 25 productores aliadxs locales.