Regular price
Sale price
$15.300
Unit price
per
Sale
Sold out
Chia seeds are loaded with Omega 3 fatty acids and help restore the balance of Omegas in the body, preventing cardiovascular diseases, reducing cholesterol, inflammation and blood clots. Chia seeds contain antioxidants to protect their fat content, which are absorbed by the body to trap free radicals and protect tissues. Chia seeds, when they come into contact with water, release a mucilage that, when consumed, sends signals of satiety and acts as a protective balm for the digestive system.
It comes from Yacuanquer, Nariño, from agroecological family farming and with Ecocert organic certification.
It can be used as an egg substitute in pastry and pastry preparations. To replace 1 egg, soak a tablespoon of chia in 3 tablespoons of water and wait for it to hydrate before mixing with the rest of the ingredients. Chia can also be added to the water we drink during the day to increase nutrient absorption and create satiety.

Its flavor is subtle with nutty notes.

Ready-to-eat food
Store in a cool place and out of direct light.
Duration of 12.
It does not need refrigeration.
Share
View full details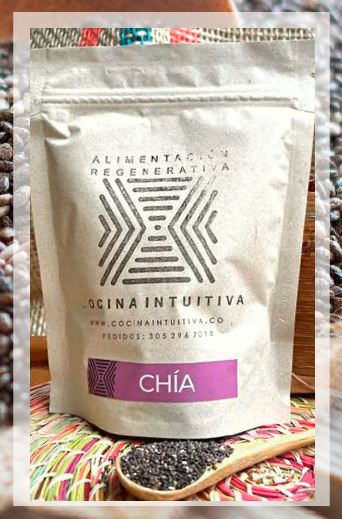 Sin agrotóxicos.
Amamos y practicamos la agroecología, somos una comunidad de más de 25 productores aliadxs locales.