Regular price
Sale price
$19.100
Unit price
per
Sale
Sold out
It behaves like cereal, it must be cooked before consuming. It can be prepared in soups, ground to add to doughs, made into rice, and it can also be expanded, like crispettes, in a pan. It is also a seed suitable for germinating and sprouting, concentrating and increasing its nutritional density.
Amaranth is rich in protein, fiber, minerals, antioxidants, and is naturally gluten-free. Due to its high iron content, it is recommended as a supplement for pregnancy and lactation. In addition, it contains a level of calcium higher than that of milk, which favors the bone formation of the fetus in its first months of gestation. Reduces stress because it helps generate tryptophan and serotonin in the body, obtaining a feeling of well-being. It is rich in polyunsaturated fats, which makes it a very healthy food for the circulatory system.

It comes from Yacuanquer, Nariño, from agroecological family farming and with Ecocert organic certification.

Its flavor is subtle, with notes of nuts and crunchy texture.

Ready-to-eat food
Store in a cool place and out of direct light.
Duration of 12.
It does not need refrigeration.
Share
View full details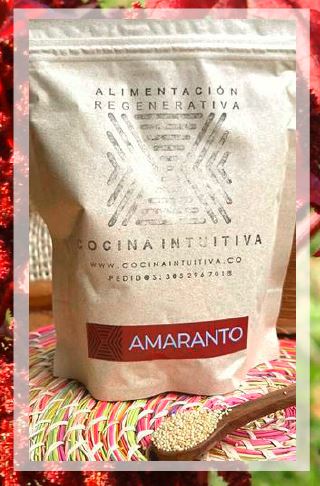 Sin agrotóxicos.
Amamos y practicamos la agroecología, somos una comunidad de más de 25 productores aliadxs locales.